IGUANA REEF INN IS NOW OPEN!
Iguana Reef Inn Coronavirus update
We have always prided ourselves on the importance of offering our guests the utmost privacy and peace. Our spacious and green property houses only 14 rooms which limit interaction with staff and other guests. All of our shared spaces (reception, lounge, Breakfast area) were built to be wide open, and our expansive beach is only accessible to our guests and patrons. At Iguana Reef Inn, year-round you can enjoy a unique connection with yourself and Mother Earth while safely hidden from the rest of the world.
This said, due to the exceptional situation our team is complying with the strictest prevention measures against COVID-19 following the best practices recommended by the World Health Organization (WHO) and the government of Belize.
Our entire staff has been trained in advanced processes of cleaning and sanitization standards, as well as social distancing precautions to provide a safe environment for our guests.  We are Proudly Gold Standard Certified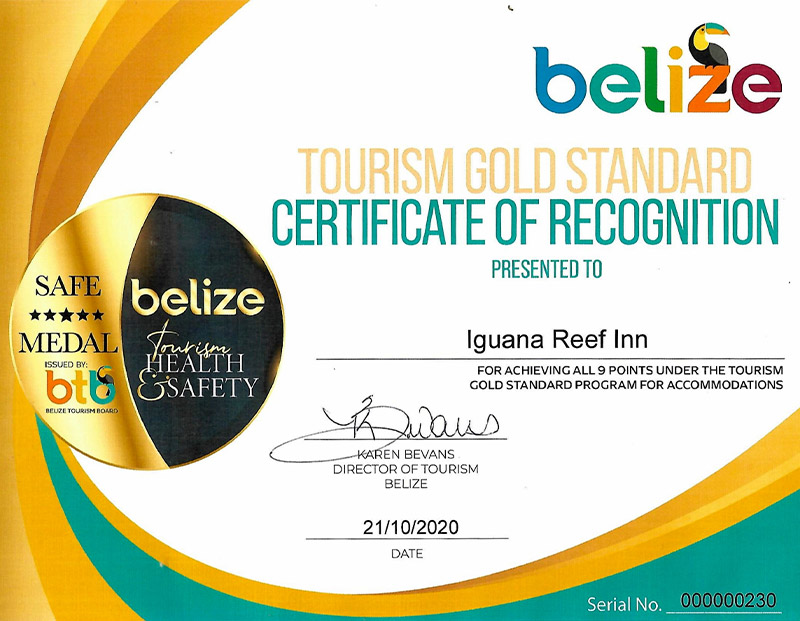 FOR CLEANING & SANITATION
Our teams are implementing new precautionary and sanitization standards developed with the guidance and information provided by global health authorities.
We've increased the frequency of property-wide cleaning and disinfecting using eco-friendly products, with extra focus paid to high-touch surfaces and public spaces like the front desk, door handles public bathrooms, Breakfast Area, and room keys.
TEMPERATURE & WELLBEING CHECKS
We will conduct Check-in temperature checks
HAND HYGIENE, MASKS, & GLOVES
The simplest daily habits can be some of the most important steps in preventing the spread of viruses: Proper and frequent hand washing is vital. We keep hand sanitizer readily available throughout our hotel— at the front desk, Breakfast area, common areas, public restrooms, and within each room.  We have added sanitization stations to facilitate the washing of hands when desired. 
Please note that masks are now mandatory in the streets of Belize and Caye Caulker.  The local authorities might apply differently sanctions if you are not wearing a mask in public spaces.
Guests will be advised to practice physical distancing by standing at least six feet away from other groups. All layouts in our restaurants, common areas, and beach lounge areas will be arranged to ensure appropriate distancing. Our employees will practice physical distancing by standing at least six feet away from guests and other employees whenever possible. There will also be single-entry access to the hotel for guests & a separate single entry access for staff.
ROOM SERVICE AND GUEST REQUESTS – NO CONTACT DELIVERY
All room service orders and guest requests will be delivered to the door. To minimize contact, our colleagues will knock to notify guests of order delivery.
ONLINE CHECK-IN & PAYMENT OPTIONS
Online check-in will be provided to speed up checking in and limit interaction. No-touch payment options are also available.
Multiple types of research show that the Coronavirus becomes increasingly ineffective with a rise in ambient temperature above 25 C°/ 77 F° and is more effective in lower temperatures below 10 C°/ 50 F°.
PCR Test Should be taken before your arrival. (72 hours before arrival) If it's negative it will lead you to a faster movement out of the airport. Or you can take a Covid 19 Test on your arrival. The cost is 50 USD.
A negative test will allow you to move forward to your hotel without quarantine – If you are tested positive you will need to quarantine 14 days at your own expense at the designated hotel that you booked.
Once out of customs and Immigrations you will be allowed to take the water taxi. We can assist you by scheduling a taxi pick up from the Airport to the marina ( ask for more information by emailing us)
You can also fly to Caye Caulker. Flying to Caye Caulker will have to be with Tropic Air or Maya Island Air. Once in Caye Caulker, we can schedule a pickup to bring you directly to the Hotel.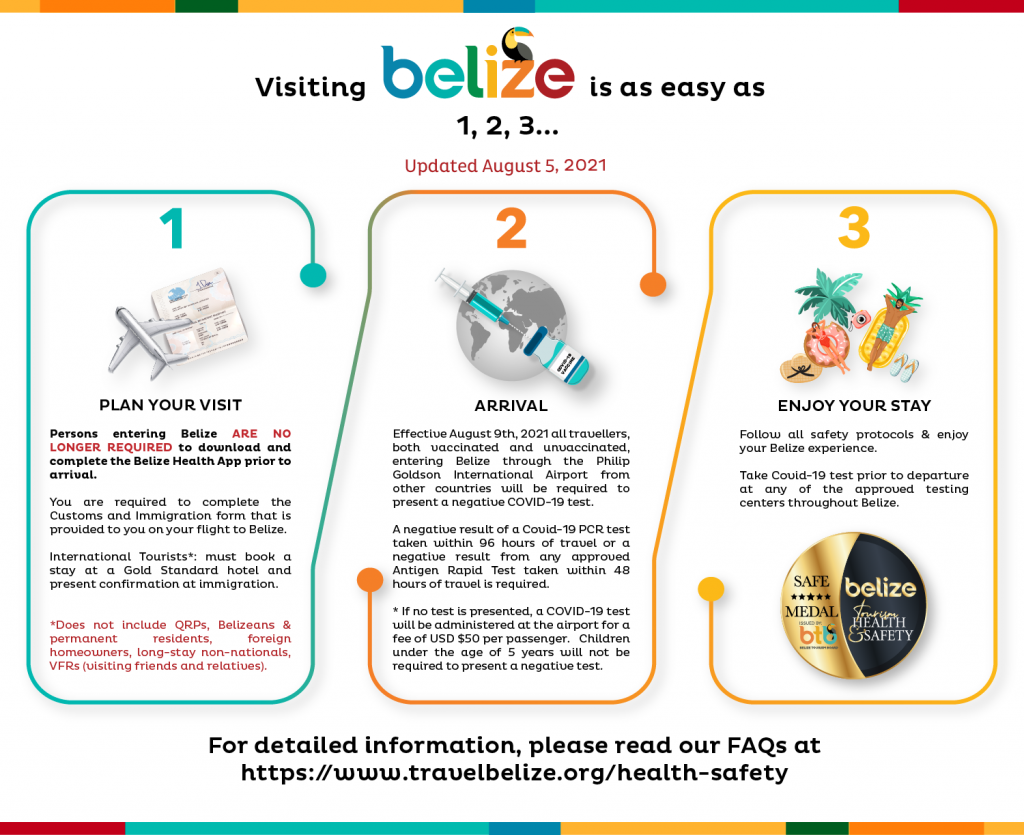 Testing yourself on the island: